Move
08-May-2011
Yoga for the Jet Set
Fitness While Flying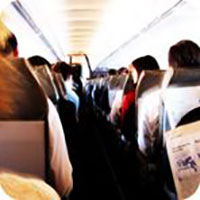 The season of travel is just around the corner, bringing fun and adventure. However, if you're not looking forward to sitting for several hours on a long flight, then airline yoga is just what you need. Here are some simple moves to keep you flexible, energized and your lymph and blood flowing, even while seated in your favorite window seat.
Camel Ride: Scoot forward in your seat and do some spine flexes. Twists: Place your hands on your shoulders and twist, inhaling left and exhaling right. Arm lifts: Adapt some chair yoga postures to stretch your shoulders. Inhale and raise both arms, exhale and bring the hands back to the shoulders. Finish with some slow neck rolls in both directions. After completing the movements, inhale, face forward, close your eyes and breathe slow, long and deep breaths. Don't worry about how you look – your fellow travelers might join you!
Recommended Read: Travel Yoga: Stretches for Planes, Trains, Automobiles, and More!
by Darrin Zeer and Frank Montagna


more mints
01-Apr-2012

Buttery, Protein-Filled Beans

Garbanzos— also known as chickpeas—are a staple food in Middle Eastern and Indian cultures. These buttery-soft...

18-Mar-2012

Delicious, Nutritious Asparagus

What's all the fuss about asparagus? Roman emperors kept a special fleet of ships on hand to fetch this tasty...

04-Mar-2012

Season with Sense

Salt is one of humanity's most precious commodities — in times past a person's value was measured by...
18-Apr-2012

Kundalini Archer Pose

Whether you're in search of stability, love or courage, practicing Archer Pose is the perfect way to embody...

04-Apr-2012

Boost Your Immune System

By maintaining a healthy diet, exercising and keeping a positive mental attitude you can definitely increase...

21-Mar-2012

Natural Housekeeping

Most likely, your grandmother cleaned her house with simple, natural ingredients. In order to...
11-Apr-2012

Breath for the Brain

Breath control is brain control. Physiologists have told us for years that slowing down the breath has...

28-Mar-2012

Wealth is in the Mind

Do you cringe when you open the mailbox and find only bills? When you get an unexpected bonus...

14-Mar-2012

The Art of Perseverance

Times are tough and that's when the tough keep up! Each of us faces challenges to our physical, mental and...
08-Apr-2012

Music for a Restful Night

After a long day's work, wouldn't it be lovely to have someone sing you to sleep? We all know about the...

25-Mar-2012

Let the Sun Set on Your Troubles

We all know how powerful it is to meditate in the morning as the sun is rising—catching that wave of energy...

11-Mar-2012

Elevate with Essential Oils

Walking in the morning dew, the scent of eucalyptus, a whiff of sea air or orange blossoms fills your nostrils...
sign up
Sign up for your free Yogamint email, a wealth of healthy tips and treats.