Move
08-May-2011
Yoga for the Jet Set
Fitness While Flying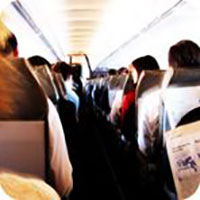 The season of travel is just around the corner, bringing fun and adventure. However, if you're not looking forward to sitting for several hours on a long flight, then airline yoga is just what you need. Here are some simple moves to keep you flexible, energized and your lymph and blood flowing, even while seated in your favorite window seat.
Camel Ride: Scoot forward in your seat and do some spine flexes. Twists: Place your hands on your shoulders and twist, inhaling left and exhaling right. Arm lifts: Adapt some chair yoga postures to stretch your shoulders. Inhale and raise both arms, exhale and bring the hands back to the shoulders. Finish with some slow neck rolls in both directions. After completing the movements, inhale, face forward, close your eyes and breathe slow, long and deep breaths. Don't worry about how you look – your fellow travelers might join you!
Recommended Read: Travel Yoga: Stretches for Planes, Trains, Automobiles, and More!
by Darrin Zeer and Frank Montagna


more mints
08-Oct-2009

Make Your Headache Disappear

Most headaches are tension headaches, caused by decreased circulation to the head, and due to neck and shoulder strain.

27-Sep-2009

A Simple Stress Buster

One of the most densely packed nerve centers in your entire body is your Temporal Mandibular Joint, the TMJ, your jaw-hinge.

20-Sep-2009

Are You a Paradoxical Breather?

Most of us don't breathe right. That sounds incredible, since breathing is automatic.
13-Oct-2009

3HO Winter Solstice Sadhana - A Dedicated Email

The Ancient Sumerians, Gnostic Christians, and many other spiritual communities share a common relationship...

01-Oct-2009

A Bead is Not Just a Bead

Some texts of the Ancient East are referred to as sutras, meaning "thread."

03-Sep-2009

Be with the One You Love

As your routine goes by day after day, it's easy to forget that one very important person in your life - You!
sign up
Sign up for your free Yogamint email, a wealth of healthy tips and treats.