Move
08-May-2011
Yoga for the Jet Set
Fitness While Flying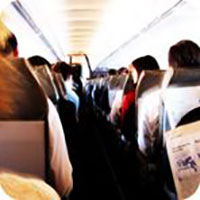 The season of travel is just around the corner, bringing fun and adventure. However, if you're not looking forward to sitting for several hours on a long flight, then airline yoga is just what you need. Here are some simple moves to keep you flexible, energized and your lymph and blood flowing, even while seated in your favorite window seat.
Camel Ride: Scoot forward in your seat and do some spine flexes. Twists: Place your hands on your shoulders and twist, inhaling left and exhaling right. Arm lifts: Adapt some chair yoga postures to stretch your shoulders. Inhale and raise both arms, exhale and bring the hands back to the shoulders. Finish with some slow neck rolls in both directions. After completing the movements, inhale, face forward, close your eyes and breathe slow, long and deep breaths. Don't worry about how you look – your fellow travelers might join you!
Recommended Read: Travel Yoga: Stretches for Planes, Trains, Automobiles, and More!
by Darrin Zeer and Frank Montagna


more mints
16-Aug-2009

Peel off the Summer Heat

When the summer sun pushes the temperature outside your body up or even beyond the temperature within it...
05-Nov-2009

Bouncing Into Bliss

How about this for a saying? "An ounce of bounce cures pounds of pounding!" You pound yourself constantly...

24-Oct-2009

The Surprising Spring of Winter Warmth

The idea of a cold shower is anathema in the West. In the realm of popular ideas, it is generally only thought of as...

11-Oct-2009

Do as the Dervishes

"Sufi Grind", a simple exercise named for a peaceful, mystic sect of Islam, is a quick and easy way to bring your mind into focus...
17-Nov-2009

Sacred Chant Retreat - A Dedicated Email

The human voice is a many-splendored thing. It's cosmic. When your favorite singer holds a note, all the forces...

08-Nov-2009

Seeing It as a Journey

Every culture has its version of a pilgrimage, or yatra. Whether the journey is from childhood to adulthood...

17-Oct-2009

Better Know a Mudra

Every statue or painting depicting a deity from the East has one shared characteristic...
sign up
Sign up for your free Yogamint email, a wealth of healthy tips and treats.