Move
08-May-2011
Yoga for the Jet Set
Fitness While Flying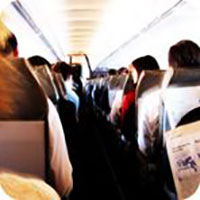 The season of travel is just around the corner, bringing fun and adventure. However, if you're not looking forward to sitting for several hours on a long flight, then airline yoga is just what you need. Here are some simple moves to keep you flexible, energized and your lymph and blood flowing, even while seated in your favorite window seat.
Camel Ride: Scoot forward in your seat and do some spine flexes. Twists: Place your hands on your shoulders and twist, inhaling left and exhaling right. Arm lifts: Adapt some chair yoga postures to stretch your shoulders. Inhale and raise both arms, exhale and bring the hands back to the shoulders. Finish with some slow neck rolls in both directions. After completing the movements, inhale, face forward, close your eyes and breathe slow, long and deep breaths. Don't worry about how you look – your fellow travelers might join you!
Recommended Read: Travel Yoga: Stretches for Planes, Trains, Automobiles, and More!
by Darrin Zeer and Frank Montagna


more mints
17-Dec-2009

Graze Don't Gobble

At your next meal, even if it's just a quick lunch on the go, take a moment to act as if you are having a feast.

29-Nov-2009

Got Truth?

They say the gods live in a land of milk and honey. But what kind of milk? We are the only species that drinks the milk of...

19-Nov-2009

Yummy Yogi Yams

The truth is, there's really no way to improve a sweet potato or yam. Whether you prefer one or the other...
07-Mar-2010

Lion's Claw Breath

It's no longer the stuff of etheric New Age types. Science has concluded, by measuring the electromagnetic frequencies surrounding...

25-Feb-2010

Lock Into Your Core Identity

Wherever you are, in public or in private, in whatever social setting, you always have one . . .

07-Feb-2010

Wake Up Stretches in Bed

Waking up can be hard to do. But between the moments you awake and when you get up to brush your teeth...
28-Oct-2009

Let Music Tame the Monkey Mind

Sometimes it's tough to chill out. Stress comes at you from work, from family and from yourself...

15-Oct-2009

Clarify for Contentment

The Buddha's second teaching is that the root of suffering is desire. In other words, it's perfectly natural to want things...

24-Sep-2009

Then Give Thanks

One of the most powerful success strategies, borrowed from the Bible, science of mind and popular motivational speakers is...
18-Mar-2010

Growth from Injury

The Buddha said it first: everybody hurts. But he also went a step further, saying the source of suffering is desire.

04-Mar-2010

See It, Share It Clearly

The English word "martyr" is identified with all sorts of suffering. But its root is a Greek word that means. . .

14-Feb-2010

Experience is the Best Teacher

While you're sleeping, the brain is already on, processing thoughts from the subconscious.
sign up
Sign up for your free Yogamint email, a wealth of healthy tips and treats.