Move
08-May-2011
Yoga for the Jet Set
Fitness While Flying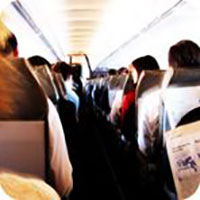 The season of travel is just around the corner, bringing fun and adventure. However, if you're not looking forward to sitting for several hours on a long flight, then airline yoga is just what you need. Here are some simple moves to keep you flexible, energized and your lymph and blood flowing, even while seated in your favorite window seat.
Camel Ride: Scoot forward in your seat and do some spine flexes. Twists: Place your hands on your shoulders and twist, inhaling left and exhaling right. Arm lifts: Adapt some chair yoga postures to stretch your shoulders. Inhale and raise both arms, exhale and bring the hands back to the shoulders. Finish with some slow neck rolls in both directions. After completing the movements, inhale, face forward, close your eyes and breathe slow, long and deep breaths. Don't worry about how you look – your fellow travelers might join you!
Recommended Read: Travel Yoga: Stretches for Planes, Trains, Automobiles, and More!
by Darrin Zeer and Frank Montagna


more mints
11-Jul-2010

Natural Electrolyte Sources

When it's this hot out, it's good to know the human body is made to withstand it. Water helps and there are all kinds...

07-Jul-2010

Connect to the Source of Your Food - A Dedicated Email

Over the last 40 years, the Fair Trade movement has blossomed from a few tiny "worldshops" selling . . .

20-Jun-2010

C the Possibilities

Besides being amazingly tasty and totally, incredibly healthy, the luscious grapefruit offers . . .
19-Aug-2010

Ten Minutes to Greatness

You're a valuable person at home and in the workplace. Others depend on you. Others depend on you.

10-Aug-2010

The Art of Wool

The ancient art of felting wool has existed for as long as yogic and meditation practices.

29-Jul-2010

Yogic Chin Lock

Very often, if not always, yoga has an emphatic focus on the movement of the spine.
06-Jun-2010

Go Tell it on a Mountain

Summer's coming up and for many that means a trip to the beach. But another option, one that cools you just as well, but has added yogic benefits. . .

23-May-2010

What You Say Happens

In Physics and Cognitive Science, there are innumerable examples that show how the subjectivity. . .

02-May-2010

Making Sattva Last

There's nothing like that feeling: you've given your all and, completely spent, you wake from the post-effort nap totally refreshed.
08-Aug-2010

Ask Your Heart

Even before the Middle Ages, alchemists were often obsessed with finding the Philosopher's Stone.

03-Aug-2010

Grow Your Business, Grow a Tree - A Dedicated Email

A single, mature leafy tree produces enough oxygen to keep ten people breathing for more than a year.

20-Jul-2010

Let Your Being Shine - A Dedicated Email

When you embellish your personal environment with sacred objects, you are following an age-old tradition . .
sign up
Sign up for your free Yogamint email, a wealth of healthy tips and treats.