Move
08-May-2011
Yoga for the Jet Set
Fitness While Flying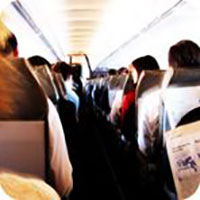 The season of travel is just around the corner, bringing fun and adventure. However, if you're not looking forward to sitting for several hours on a long flight, then airline yoga is just what you need. Here are some simple moves to keep you flexible, energized and your lymph and blood flowing, even while seated in your favorite window seat.
Camel Ride: Scoot forward in your seat and do some spine flexes. Twists: Place your hands on your shoulders and twist, inhaling left and exhaling right. Arm lifts: Adapt some chair yoga postures to stretch your shoulders. Inhale and raise both arms, exhale and bring the hands back to the shoulders. Finish with some slow neck rolls in both directions. After completing the movements, inhale, face forward, close your eyes and breathe slow, long and deep breaths. Don't worry about how you look – your fellow travelers might join you!
Recommended Read: Travel Yoga: Stretches for Planes, Trains, Automobiles, and More!
by Darrin Zeer and Frank Montagna


more mints
04-Nov-2010

A Sweet Fall Treat

Picture an autumn morning with frost on the ground—it's apple baking time. Baked apples are a tasty and healthy treat...

21-Oct-2010

Support Your Liver

Ever hear the phrase, "Your liver is your lover"? The liver is one of the largest organs in your body--performing over 500 separate functions--

07-Oct-2010

An Onion at a Time

Things change. You want it that way, otherwise life would be boring. However, taking care of your body in the midst of big changes is crucial.
09-Dec-2010

Breathe into Quiet

These days it's not enough just to sit down for a moment to take a breather. In a restaurant, at the office, even in your own home, information...

25-Nov-2010

Strength in Small Packages

Who's got your back? You do! Don't underestimate the power of a strong body core to help ward off lower back pain and injury.

11-Nov-2010

Trigger Point Relief

We've all had nagging muscle pain in the low back, legs and shoulders. Over time, due to stress or injury, these spots can cause "trigger points"...
10-Oct-2010

Cultivate Non-Attachment

Mother Nature reminds us that everything has its season. The ocean waves illustrate the ebb and flow of life.

26-Sep-2010

Get Ready for Serendipity

In a fairy tale, three Sri Lankan princes travel the Middle East making amazing discoveries. The Arabic word for their homeland – Serendip –

12-Sep-2010

Make Your Dreams Reality

When you set a goal, you project your thoughts into the future. In reality, a goal finds fulfillment through actions. . .
17-Oct-2010

Set Your Intentions

What marks the transition from waking to starting your day? Is it getting dressed for work or reviewing your To Do list?

05-Oct-2010

Auric Color Therapy - A Dedicated Email

Did you know that wearing 100% white cotton clothing gives you an "energetic umbrella?"

03-Oct-2010

Kundalini and Your Soul

Literally everyone has at least one X chromosome, which implants a bit of femininity in all of us.
sign up
Sign up for your free Yogamint email, a wealth of healthy tips and treats.