Move
08-May-2011
Yoga for the Jet Set
Fitness While Flying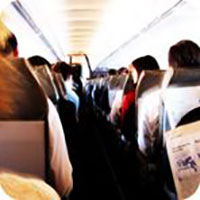 The season of travel is just around the corner, bringing fun and adventure. However, if you're not looking forward to sitting for several hours on a long flight, then airline yoga is just what you need. Here are some simple moves to keep you flexible, energized and your lymph and blood flowing, even while seated in your favorite window seat.
Camel Ride: Scoot forward in your seat and do some spine flexes. Twists: Place your hands on your shoulders and twist, inhaling left and exhaling right. Arm lifts: Adapt some chair yoga postures to stretch your shoulders. Inhale and raise both arms, exhale and bring the hands back to the shoulders. Finish with some slow neck rolls in both directions. After completing the movements, inhale, face forward, close your eyes and breathe slow, long and deep breaths. Don't worry about how you look – your fellow travelers might join you!
Recommended Read: Travel Yoga: Stretches for Planes, Trains, Automobiles, and More!
by Darrin Zeer and Frank Montagna


more mints
07-Dec-2010

Cleanse & Transform - A Dedicated Email

The holidays are coming and we all know that means… overeating. Over time, your body can become toxic due to the ingestion of "slow poisons"...

02-Dec-2010

Food for the Ages

Alfalfa sprouts—are they the poster child for the health food movement or the wonder food of the ages?

18-Nov-2010

Heart-Healthy Superfruit

Cranberries – deep red and tart – provide a heart-healthy treat loaded with antioxidants to help prevent cardiovascular diseases and lower cholesterol.
13-Jan-2011

Strengthen Your Vision

Your sense of sight is your window to the world. Through your eyes you experience almost half the information...

02-Jan-2011

Reach for the Earth

Consider this -- in one of those curious, counter-intuitive twists, the ancient yogis said that a human's connection...

16-Dec-2010

Sit and Stretch

The next time you're sitting in front of the television after a hard day of work, add some sofa yoga to help melt away the residual tension from the day.
21-Nov-2010

Free Your Thoughts

Years ago, motivational teacher Zig Zigler opened his seminars with the statement, "Give yourself a checkup from the neck up...

07-Nov-2010

Catch a Child's Vision

When you look at your daily routine, the usual stresses add up to a single question: What's it all for?

24-Oct-2010

Sprinkle on Some Sound

The word mantra literally translates to "mind-wave." Repeating a mantra is an age-old technology of controlling. . .
28-Nov-2010

Cultivate Inner Calmness

Silence is golden and just downright healthy and valuable. It's amazing to realize how much time and energy is spent talking.

14-Nov-2010

Healing Through Humor

Why did the football coach go to the bank? To get his quarter back! Oh, lighten up! We're all too serious these days.

31-Oct-2010

Commit to Uplift

We've all heard the saying: "You're only as good as your word." It implies the power in what we express.
sign up
Sign up for your free Yogamint email, a wealth of healthy tips and treats.