Move
22-Feb-2012
The Long Stretch
Flex Your Life Nerve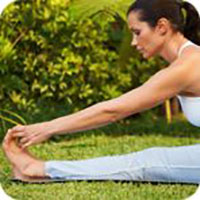 The secret to long life and health is as close as the back of your legs. With the yogic power of Life Nerve Stretch you can maintain flexibility (the key to staying young), as well as give your whole body a tune-up. This nerve runs from the back of the heels, up through the sciatic nerve and through the lower, middle and upper back. Doing this stretch every day gives you a flexible spine, helps with emotional balance and strengthens the digestive system.
To stretch your "life nerve," sit on your mat, inhale deeply and bend forward, grabbing onto your toes. If you can't reach your toes, hold your ankles or knees. Keep the knees on the floor—no bending the knees. Gently stretch your chest down to your knees with long deep breathing, pulling back on the toes, so you can feel the stretch in the back of the legs for 3 minutes. This is a "wonder posture" for women, helping with urinary problems, cold feet, muscle spasms and fatigue. Stretch and flex to stay young and healthy for years to come!

Yogamint Food & Flow video demonstrating Life Nerve Stretch: Limber for Life
Recommended: Full-Body Flexibility by Jay Blahnik and Kundalini Yoga Ultimate Stretch Workout with Ana Brett and Ravi Singh


more mints
16-Aug-2009

Peel off the Summer Heat

When the summer sun pushes the temperature outside your body up or even beyond the temperature within it...
05-Nov-2009

Bouncing Into Bliss

How about this for a saying? "An ounce of bounce cures pounds of pounding!" You pound yourself constantly...

24-Oct-2009

The Surprising Spring of Winter Warmth

The idea of a cold shower is anathema in the West. In the realm of popular ideas, it is generally only thought of as...

11-Oct-2009

Do as the Dervishes

"Sufi Grind", a simple exercise named for a peaceful, mystic sect of Islam, is a quick and easy way to bring your mind into focus...
17-Nov-2009

Sacred Chant Retreat - A Dedicated Email

The human voice is a many-splendored thing. It's cosmic. When your favorite singer holds a note, all the forces...

08-Nov-2009

Seeing It as a Journey

Every culture has its version of a pilgrimage, or yatra. Whether the journey is from childhood to adulthood...

17-Oct-2009

Better Know a Mudra

Every statue or painting depicting a deity from the East has one shared characteristic...
sign up
Sign up for your free Yogamint email, a wealth of healthy tips and treats.