Move
22-Feb-2012
The Long Stretch
Flex Your Life Nerve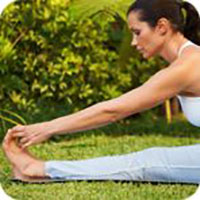 The secret to long life and health is as close as the back of your legs. With the yogic power of Life Nerve Stretch you can maintain flexibility (the key to staying young), as well as give your whole body a tune-up. This nerve runs from the back of the heels, up through the sciatic nerve and through the lower, middle and upper back. Doing this stretch every day gives you a flexible spine, helps with emotional balance and strengthens the digestive system.
To stretch your "life nerve," sit on your mat, inhale deeply and bend forward, grabbing onto your toes. If you can't reach your toes, hold your ankles or knees. Keep the knees on the floor—no bending the knees. Gently stretch your chest down to your knees with long deep breathing, pulling back on the toes, so you can feel the stretch in the back of the legs for 3 minutes. This is a "wonder posture" for women, helping with urinary problems, cold feet, muscle spasms and fatigue. Stretch and flex to stay young and healthy for years to come!

Yogamint Food & Flow video demonstrating Life Nerve Stretch: Limber for Life
Recommended: Full-Body Flexibility by Jay Blahnik and Kundalini Yoga Ultimate Stretch Workout with Ana Brett and Ravi Singh


more mints
11-Jul-2010

Natural Electrolyte Sources

When it's this hot out, it's good to know the human body is made to withstand it. Water helps and there are all kinds...

07-Jul-2010

Connect to the Source of Your Food - A Dedicated Email

Over the last 40 years, the Fair Trade movement has blossomed from a few tiny "worldshops" selling . . .

20-Jun-2010

C the Possibilities

Besides being amazingly tasty and totally, incredibly healthy, the luscious grapefruit offers . . .
19-Aug-2010

Ten Minutes to Greatness

You're a valuable person at home and in the workplace. Others depend on you. Others depend on you.

10-Aug-2010

The Art of Wool

The ancient art of felting wool has existed for as long as yogic and meditation practices.

29-Jul-2010

Yogic Chin Lock

Very often, if not always, yoga has an emphatic focus on the movement of the spine.
06-Jun-2010

Go Tell it on a Mountain

Summer's coming up and for many that means a trip to the beach. But another option, one that cools you just as well, but has added yogic benefits. . .

23-May-2010

What You Say Happens

In Physics and Cognitive Science, there are innumerable examples that show how the subjectivity. . .

02-May-2010

Making Sattva Last

There's nothing like that feeling: you've given your all and, completely spent, you wake from the post-effort nap totally refreshed.
08-Aug-2010

Ask Your Heart

Even before the Middle Ages, alchemists were often obsessed with finding the Philosopher's Stone.

03-Aug-2010

Grow Your Business, Grow a Tree - A Dedicated Email

A single, mature leafy tree produces enough oxygen to keep ten people breathing for more than a year.

20-Jul-2010

Let Your Being Shine - A Dedicated Email

When you embellish your personal environment with sacred objects, you are following an age-old tradition . .
sign up
Sign up for your free Yogamint email, a wealth of healthy tips and treats.