Move
08-Feb-2012
Let's Get Together
Make a Yoga Date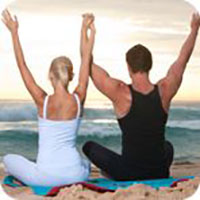 Looking for a way to spice up your relationship? Instead of a movie night, try some couples yoga. Doing yoga with your partner enhances the physical, emotional and spiritual connection between intimate partners. Yoga is nurturing and fun…and has many rewards to bring you closer together as a couple.
Choose a time when you can both be fully present—either in the early morning or as a cozy nighttime ritual. Create a special place to set up your mats—you can even make a "partner" altar to place special photos and candles. Add some soft lighting, music and incense. As you practice your yoga together, be aware of your partner, projecting love and support to him or her. Allow time afterwards to deeply relax, share from the heart or be lovingly intimate. Whether you get together every day or just on special romantic "yoga dates"—doing yoga together will surely make you a dynamic duo!
Heart Healing Celestial Communication with Adarsh
Why Be in a Relationship? with Siri Marka
Recommended: Couples Companion - Meditations and Exercises for Getting the Love You Want by Helen Hunt and A Slice of the Beloved - Yoga for Couples by Gurutej Khalsa


more mints
05-Aug-2012

Rose of Jamaica Tea

"Agua de flor de Jamaica" or hibiscus tea—with its lovely tart flavor and deep red color—is a universal herbal...

22-Jul-2012

Mini-Cabbage Miracle

Mom was onto something when she made you eat your Brussels sprouts. These beautiful little gems are...

08-Jul-2012

The King of Spices

You may think of black pepper as the companion to salt, but it is so much more! Peppercorns have been...
22-Aug-2012

Using a Body Brush

Don't give your lymph system the "brush off"—it's a first line of defense to keep you strong and healthy.

08-Aug-2012

Ayurvedic Oil Pulling

The ancient therapy of oil pulling puts a whole new meaning into oral care. Oil pulling is an Ayurvedic...

25-Jul-2012

Navel Point Yoga

The ancient yogic scriptures claim that all yoga begins at the navel point. The navel is not just a point; it is...
15-Aug-2012

Get Past Procrastination

Ever put off doing something unpleasant—like writing a report for work, cleaning out the attic or writing thank...

01-Aug-2012

Centering on Intention

Every spiritual tradition offers a way to "tune in" to the spirit. From Zen Buddhist practice to the Christian...

18-Jul-2012

Creating Family Harmony

When a family unit is healthy, music happens. Just as the strings on a guitar must be tuned to each other...
12-Aug-2012

Stay in the Neutral Zone

Up one day, down the next – whether it's the political climate, keeping your business afloat in a tough...

29-Jul-2012

Tibetan Singing Bowls

Remember running your finger around the rim of a wine glass to make it hum? The same concept lies...

15-Jul-2012

Joy in the Journey

If you're feeling stuck in a rut or feel the need to expand your horizons and see what lies over the next...
sign up
Sign up for your free Yogamint email, a wealth of healthy tips and treats.