Move
08-Feb-2012
Let's Get Together
Make a Yoga Date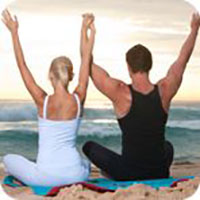 Looking for a way to spice up your relationship? Instead of a movie night, try some couples yoga. Doing yoga with your partner enhances the physical, emotional and spiritual connection between intimate partners. Yoga is nurturing and fun…and has many rewards to bring you closer together as a couple.
Choose a time when you can both be fully present—either in the early morning or as a cozy nighttime ritual. Create a special place to set up your mats—you can even make a "partner" altar to place special photos and candles. Add some soft lighting, music and incense. As you practice your yoga together, be aware of your partner, projecting love and support to him or her. Allow time afterwards to deeply relax, share from the heart or be lovingly intimate. Whether you get together every day or just on special romantic "yoga dates"—doing yoga together will surely make you a dynamic duo!
Heart Healing Celestial Communication with Adarsh
Why Be in a Relationship? with Siri Marka
Recommended: Couples Companion - Meditations and Exercises for Getting the Love You Want by Helen Hunt and A Slice of the Beloved - Yoga for Couples by Gurutej Khalsa


more mints
16-Sep-2012

Savory Squash Seeds

Halloween and Thanksgiving are just around the corner, bringing tasty pumpkin-based foods to your table. Don't...

02-Sep-2012

Body-Friendly Bacteria

When you hear the word "bugs" in relation to your health, it might conjure up visions of the flu or other...

19-Aug-2012

Super-Healing Herb

This tasty green herb puts pizzazz in your salsa and has the power to heal and cleanse your body.
20-Sep-2012

Screen Swami Desktop Yoga - A Dedicated Email

In India, disciples served the teacher ("guru") for many years before learning their first yoga posture.

19-Sep-2012

Move and Groove

In the 21st century, we take mobility for granted as we travel with our cell phones, computers, music and apps on the go.

05-Sep-2012

Pranayama for Relaxation

When Pinocchio needed to call on his conscience, all he had to do was "give a little whistle." It turns out that...
26-Sep-2012

Gotu Kola - The Memory Herb

Elephants are noted for their good memory, perhaps because they frequently eat Gotu Kola leaves. Long revered by yogis in the Himalayas for its purported ability to enhance meditation, the Gotu Kola...

12-Sep-2012

Mind and Meditation

Imagine a river flowing powerfully through the land. Your mind is like that river—carrying your thoughts...

29-Aug-2012

Embracing Solitude

We are, by our very nature, social beings; but sometimes you just need to be alone. Henry David Thoreau said...
23-Sep-2012

Compliment vs. Complaint

Children forget to clean their rooms; bad drivers cut you off the road; co-workers can be insensitive. You might...

09-Sep-2012

Defining the Divine

However you choose to define (or not define) the term "God" it is true that throughout the universe...

26-Aug-2012

Heroism in Daily Life

Heroes are everywhere—they are parents working two jobs to make ends meet. They are firefighters and medical...
sign up
Sign up for your free Yogamint email, a wealth of healthy tips and treats.