Move
15-Dec-2011
Fueling the Fire
Warming Yogic Tips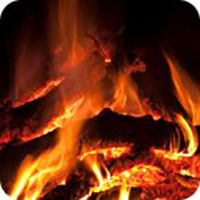 Trying to stay warm this winter? You could snuggle all day under a blanket or wear several layers of clothing to ward off the chills. You could also do yoga to help fuel the fires, keeping you warm, ridding the body of toxins (especially if you tend to be more sedentary in the cold) and helping your body deal with the seasonal tendency to want to hibernate. So how do you heat the body with yoga?
Breath of Fire pranayama is a natural internal heater. You can even use it as a survival tool if you are caught out in the cold and need to stay warm. Pumping the navel helps keep the digestive fires stoked, as does pulling root lock (mul bhand). First thing in the morning doing a vigorous yoga set gets your blood circulating and helps regulate your body temp throughout the day. Finally, don't neglect those cold showers for some yogic hydrotherapy. Now is the time to warm up with some yogic fire and enjoy the beauty of the winter wonderland!
Fire Kriya (1119 KB)
Recommended: Autumn, Winter, Spring, Summer: Yoga Through the Seasons
by Sandra Savatini and Shiva Rea: Sun Salutations
(DVD)


more mints
04-Feb-2010

De-Crankify Yourself

When you make decisions on the serious matters in your personal, family, or professional life, you're not going to allow the winds of emotion. . .

21-Jan-2010

Super Juice Recipe

Super charge your system and clean out your organs with this powerful combo of beets, carrots, apple and ginger juice.

03-Jan-2010

Super Flu Tea Recipe

Swine Flu, Avian Flu, Human Flu—Oh My! What to do when the flu arrives? The most important thing is to build...
15-Apr-2010

Cannon-fire Breath

Probably the most abused part of the American body are the adrenal glands.

30-Mar-2010

Ancient Technology Redesigned - A Dedicated E-Mail

A precursor to acupressure is thought to be the Indian Bed of Nails, used by India's Yogis for centuries.

21-Mar-2010

What Haven't You Said?

Where did that sore throat come from? And why did you have to wake up with it today?
13-Dec-2009

Program Yourself for Peace

You don't have to be a psychiatrist to know that when you're tired, you're more susceptible to influence.

03-Dec-2009

One-Minute Breath

Yogic texts and Chinese medicine teach that every person is particularly sensitive to their fears along the meridians of the diaphragm.

12-Nov-2009

The Promise of an Examined Life

This simple phrase, which seems to hold out a promise to all who read or hear it, hides a profound knowledge...
11-Apr-2010

The Humility to Deliver

You've been in those moments before – whether it was a teacher calling on you in school . . .

06-Apr-2010

Good Reasons to Tie One On

The practice of covering one's head has been around since the beginning of civilization.

01-Apr-2010

Giving is Natural

What you give, you receive. It's a tried and true saying that has stood the test of time.
sign up
Sign up for your free Yogamint email, a wealth of healthy tips and treats.