Move
15-Dec-2011
Fueling the Fire
Warming Yogic Tips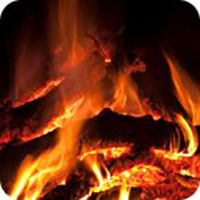 Trying to stay warm this winter? You could snuggle all day under a blanket or wear several layers of clothing to ward off the chills. You could also do yoga to help fuel the fires, keeping you warm, ridding the body of toxins (especially if you tend to be more sedentary in the cold) and helping your body deal with the seasonal tendency to want to hibernate. So how do you heat the body with yoga?
Breath of Fire pranayama is a natural internal heater. You can even use it as a survival tool if you are caught out in the cold and need to stay warm. Pumping the navel helps keep the digestive fires stoked, as does pulling root lock (mul bhand). First thing in the morning doing a vigorous yoga set gets your blood circulating and helps regulate your body temp throughout the day. Finally, don't neglect those cold showers for some yogic hydrotherapy. Now is the time to warm up with some yogic fire and enjoy the beauty of the winter wonderland!
Fire Kriya (1119 KB)
Recommended: Autumn, Winter, Spring, Summer: Yoga Through the Seasons
by Sandra Savatini and Shiva Rea: Sun Salutations
(DVD)


more mints
14-Mar-2010

Spring Cleaning

Rains come, flowers bloom, birds fly north and the bees get back to their busy, buzzing business. As the seasons change...

28-Feb-2010

Holy Jalapeno!

Ay Chihuahua! For some, jalapenos are just too hot, even though they're considered low on the scales of spicy.

18-Feb-2010

Reduce Acid's Effects

Stress is a fact of life. It literally pressurizes you, increasing the body's acidity.
09-May-2010

See the World at a Slower Pace

Rush, rush, go, go, speed of light, time's a wastin'…Whoa! Take a breath and take a walk.

04-May-2010

Soak in the Heat of Mother Earth - A Dedicated Email

Iceland is in the news again and, as usual, the reason is volcanic. But one eruption is nothing . . .

25-Apr-2010

Bundle Roll Your Infant

Swaddling, or what's called "bundle roll" in Yogic teachings, is an age old technique for helping create calm . . .
24-Jan-2010

Is It True?

These days more and more people understand the simple fact that "Truth" is almost always relative.

14-Jan-2010

Shake Things Up

Here we go again! The rat race, the hamster wheel, the not-so-merry-go-round - over and over again.

20-Dec-2009

Make a Gratitude List

So many problems, worries, and challenges, it piles up fast! That overwhelmed feeling is a signal...
29-Apr-2010

Let It Come to You

It seems like every time you move a couple of steps forward, you get knocked a step back.

20-Apr-2010

3HO's Summer Solstice Sadhana Celebration - A Dedicated Email

On the Solstice the sun is at its apex and that has myriad meanings for the world's cultures. The light of the sun . . .

13-Apr-2010

Sacred Sounds Retreat with Sada Sat- A Dedicated Email

Everything in the universe vibrates, and every cell in our body resonates with sound.
sign up
Sign up for your free Yogamint email, a wealth of healthy tips and treats.