Move
07-Mar-2012
Back to Earth
Emerging from Meditation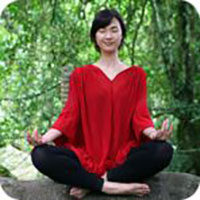 Your eyes are closed and you breathe slowly with ease as your thoughts float by. You are in the meditative "zone of peace." Whether you are sitting in a zen retreat, chanting on a mountaintop or meditating in front of your altar at home, emerging with care from a meditative state helps you integrate your transformed state of mind back into the go-go-go of your everyday world.
Just as you prepare for meditation with breathing, yoga and focusing your mind, it is equally important to transition delicately out of deep meditation. As you come to the end of your meditation session, keep your eyes closed, take a few long deep breaths as you allow each breath to bring you more fully back into your body. Move your fingers and toes and gently roll your neck to increase circulation and awareness. Finally, open your eyes slowly, letting them focus before you begin to move or speak. As you rise and prepare to re-enter the stream of worldly affairs, embrace your renewed self with grace and gratitude.
Recommended: A Half-Hour of Peace - A Guided Imagery Meditation for Physical & Spiritual Wellness by Susie Mantell and Commit to Sit: Tools for Cultivating a Meditation Practice by Joan Duncan Oliver


more mints
08-Oct-2009

Make Your Headache Disappear

Most headaches are tension headaches, caused by decreased circulation to the head, and due to neck and shoulder strain.

27-Sep-2009

A Simple Stress Buster

One of the most densely packed nerve centers in your entire body is your Temporal Mandibular Joint, the TMJ, your jaw-hinge.

20-Sep-2009

Are You a Paradoxical Breather?

Most of us don't breathe right. That sounds incredible, since breathing is automatic.
13-Oct-2009

3HO Winter Solstice Sadhana - A Dedicated Email

The Ancient Sumerians, Gnostic Christians, and many other spiritual communities share a common relationship...

01-Oct-2009

A Bead is Not Just a Bead

Some texts of the Ancient East are referred to as sutras, meaning "thread."

03-Sep-2009

Be with the One You Love

As your routine goes by day after day, it's easy to forget that one very important person in your life - You!
sign up
Sign up for your free Yogamint email, a wealth of healthy tips and treats.