elevate
20-Aug-2009
Altar Your Space
An Oasis in Your Home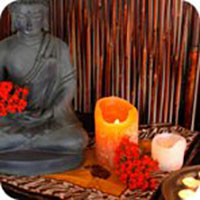 When you compare the floor plans of modern homes with those of ancient times, you will see that our needs have essentially gone unchanged. There is one major difference, however. In the space where the ancients once kept their altars, most modern homes now sport a television.
The effects of having a sacred space in the home are profound. In times of loss, extra stress, or when the world seems unfair, this place can be a refuge. No matter where you live or how much room you have, a corner or small shelf space can become a tool for creating closure, initiating new changes, setting goals and opening yourself to inner guidance. So make room for a few items (a candle, crystals, fresh flowers or pictures) that represent peace, calm and inspiration. Spend a little time every day in front of your altar and watch your capacity for reverence grow and overflow.

Recommended: Your Altar: Creating a Sacred Space for Prayer & Meditation


more mints
04-Oct-2009

A Sweet and Spicy Immune Booster

If it's not already chilly where you live, it will be soon!

13-Sep-2009

Make Your Own Healthy Fruit Snacks

You've probably bought those packaged fruit leathers at the health food store. They're super healthy...

30-Aug-2009

Chew, Chew, Chew for a Healthier You

The pace of life these days rarely affords the time to stop, breathe and be mindful of this precious moment...
10-Dec-2009

Learn to Digest More Easily

Food is amazing. So its no wonder that, every once in a while, we have a little too much.

26-Nov-2009

How to Move Your "Dead Zone"

Physiologists who have studied the biomechanics of the spine call the tight little area between your shoulder blades...

15-Nov-2009

Do the Twist

One of the places in the body stress most often accumulates is the lower back. The discs between each vertebra act...
02-Aug-2009

Use Your Head to De-Stress

The scalp contains thousands of nerve endings. These nerves are in close proximity to the sense organs...
15-Dec-2009

Conscious Communication - A Dedicated Email

Communication is communion. But the art and science of relaying messages between two souls...

06-Dec-2009

Prayer Pose

Every spiritual tradition intends, in its own way, to bring together the heavens and earth. And they do it the same way.

22-Nov-2009

Morning is Sacred

Whether or not you consider yourself a "morning person," you know what it's like to wake up refreshed. . .
sign up
Sign up for your free Yogamint email, a wealth of healthy tips and treats.