elevate
20-Aug-2009
Altar Your Space
An Oasis in Your Home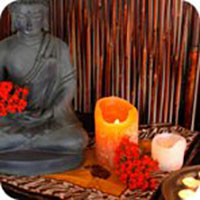 When you compare the floor plans of modern homes with those of ancient times, you will see that our needs have essentially gone unchanged. There is one major difference, however. In the space where the ancients once kept their altars, most modern homes now sport a television.
The effects of having a sacred space in the home are profound. In times of loss, extra stress, or when the world seems unfair, this place can be a refuge. No matter where you live or how much room you have, a corner or small shelf space can become a tool for creating closure, initiating new changes, setting goals and opening yourself to inner guidance. So make room for a few items (a candle, crystals, fresh flowers or pictures) that represent peace, calm and inspiration. Spend a little time every day in front of your altar and watch your capacity for reverence grow and overflow.

Recommended: Your Altar: Creating a Sacred Space for Prayer & Meditation


more mints
04-Feb-2010

De-Crankify Yourself

When you make decisions on the serious matters in your personal, family, or professional life, you're not going to allow the winds of emotion. . .

21-Jan-2010

Super Juice Recipe

Super charge your system and clean out your organs with this powerful combo of beets, carrots, apple and ginger juice.

03-Jan-2010

Super Flu Tea Recipe

Swine Flu, Avian Flu, Human Flu—Oh My! What to do when the flu arrives? The most important thing is to build...
15-Apr-2010

Cannon-fire Breath

Probably the most abused part of the American body are the adrenal glands.

30-Mar-2010

Ancient Technology Redesigned - A Dedicated E-Mail

A precursor to acupressure is thought to be the Indian Bed of Nails, used by India's Yogis for centuries.

21-Mar-2010

What Haven't You Said?

Where did that sore throat come from? And why did you have to wake up with it today?
13-Dec-2009

Program Yourself for Peace

You don't have to be a psychiatrist to know that when you're tired, you're more susceptible to influence.

03-Dec-2009

One-Minute Breath

Yogic texts and Chinese medicine teach that every person is particularly sensitive to their fears along the meridians of the diaphragm.

12-Nov-2009

The Promise of an Examined Life

This simple phrase, which seems to hold out a promise to all who read or hear it, hides a profound knowledge...
11-Apr-2010

The Humility to Deliver

You've been in those moments before – whether it was a teacher calling on you in school . . .

06-Apr-2010

Good Reasons to Tie One On

The practice of covering one's head has been around since the beginning of civilization.

01-Apr-2010

Giving is Natural

What you give, you receive. It's a tried and true saying that has stood the test of time.
sign up
Sign up for your free Yogamint email, a wealth of healthy tips and treats.