elevate
20-Aug-2009
Altar Your Space
An Oasis in Your Home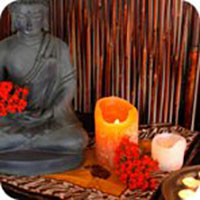 When you compare the floor plans of modern homes with those of ancient times, you will see that our needs have essentially gone unchanged. There is one major difference, however. In the space where the ancients once kept their altars, most modern homes now sport a television.
The effects of having a sacred space in the home are profound. In times of loss, extra stress, or when the world seems unfair, this place can be a refuge. No matter where you live or how much room you have, a corner or small shelf space can become a tool for creating closure, initiating new changes, setting goals and opening yourself to inner guidance. So make room for a few items (a candle, crystals, fresh flowers or pictures) that represent peace, calm and inspiration. Spend a little time every day in front of your altar and watch your capacity for reverence grow and overflow.

Recommended: Your Altar: Creating a Sacred Space for Prayer & Meditation


more mints
22-Apr-2010

Eat Less, Live Long, Save Money

A very interesting study done years ago found that rats who were fed the minimal requirement of calories lived twice . . .

04-Apr-2010

Iron in the Afternoon

It can't be helped. On those days when you're giving it your all, there's an inevitable lull in the afternoon.

28-Mar-2010

Water You Waiting For?

Let there be water! Most people don't drink enough water throughout the day. You get too busy . . .
27-Jun-2010

Source of Your Creativity

In the Book of Genesis, God creates Eve from Adam's rib. It's a curious aspect of the story. . .

13-Jun-2010

Eliminate Your Problems

If you eat three meals a day, you should move your bowels as much. If this is not the case . . .

20-May-2010

Wash Your Hair the Yogi Way

Here in the West, as the summer approaches and the body begins to detox, its natural processes...
11-Mar-2010

A Contract With Your Heart

"To err is human/ to forgive divine." You know it is best to overlook the shortcomings of others.

21-Feb-2010

Put Fear Under the Microscope

The mind does what it does, it's pretty much always going. By cultivating a relationship with it, through meditation, you begin to notice patterns.

11-Feb-2010

Experience is the Best Teacher

You have a trove of experiences to draw from, which automatically means you have wisdom to share.
03-Jun-2010

Verbalize Your Projection

No matter where you come from or where you intend to go, you are known to those around you by a word.

16-May-2010

The Whiff of Intuition

Is something rotten in Denmark? Is something fishy going on? Do you smell a rat? These clichés mention the sense of smell...

06-May-2010

Karma and Family

Warm weather means more time outdoors, more time with friends and (deep breath) more time with family. Eastern thought says that, at the root of familial relationships...
sign up
Sign up for your free Yogamint email, a wealth of healthy tips and treats.