in depth
08-Apr-2012
Yoga as Therapy
Prescription for Health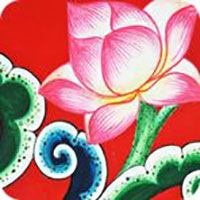 Waking up early, meditating and practicing yoga is an essential way to start the day. I love my asana practice. But what happens when your body changes and your treasured asana practice becomes unhealthy for your body? A few years ago, I developed an acute condition, which prompted me to delve into the study of yoga therapy. Diagnosed with osteoarthritis in my cervical spine, I finally had an explanation for the chronic stiffness and pain I regularly felt in my neck.
Becoming increasingly popular in the West, yoga therapy has been used as a holistic treatment for illness in India for thousands of years. Countless scientific studies at the Krishnamacharya Healing and Yoga Foundation in India provide proof of the benefits of yoga therapy.
Yoga therapists apply classical applications of asana (postures) to help treat common alignments and conditions. Generally offered one-on-one to individuals who are not able to participate in a group class due to specific health problems, the structure of a yoga therapy session is very different from a regular group yoga practice or working out with yoga DVDs.
For starters, yoga therapists often work in conjunction with referring doctors. Some of the many ailments successfully treated with yoga therapy include arthritis, lower and upper back problems, hypertension, heart disease, asthma and diabetes.
Group yoga classes are wonderful if you are in good condition, however, if you have a chronic health issue, regular yoga classes could exacerbate an existing condition. For example, rounding your spine is not an appropriate posture for someone with a lumbar herniated disc as it exaggerates the symptoms and increases pain.
Working one-on-one with a yoga therapist, you would learn to modify standard postures allowing you to accommodate and improve your condition. A good yoga therapist provides you with a tailored asana practice so you can work on your own healing each and every day!
I may have had to say "farewell" to my beloved yoga headstands, however I now structure my practice for optimal health and balance. This works well for my body—and guess what—my neck rarely hurts anymore!
Heidi Rayden
Certified Yoga Therapist, Media Producer
freeyoursoultv.com
Yoga Therapy Program (Loyola Marymount University)
Krishnamacharya Healing & Yoga Foundation
Recommended: Yoga As Medicine by Timothy McCall


sign up
Sign up for your free Yogamint email, a wealth of healthy tips and treats.